Diane Moyer, MS, RN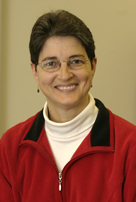 Diane Moyer, MS, RN, presently serves as the Treasurer on the Health Care Education Association's (HCEA) Board. In this member feature, Moyer discusses how her nursing career helped her to discover her passion for patient education.
When did you join HCEA?
I have been a member since 2001-2002.
Where do you work and what is your role?
I am the associate director for Health System Patient Education at The Ohio State University (OSU) Wexner Medical Center in Columbus, Ohio.
What inspired you to work in this field?
Since working in home care in the early years of my nursing career, I have found educating patients and families to be tremendously satisfying, and great fun. Nothing is more fulfilling than seeing those "light bulb" moments of understanding, like when a patient learns how to care for their condition or prepare for a treatment, or when the wife of a patient accurately puts on a dressing!

In the beginning of my career, there were not many patient education resources available, and I started to write out various procedures for my patients. I also learned a great deal from patients and families who were very engaged in their care. A year or two later, I came to OSU and got involved in teaching group classes to patients and families with heart disease. I was able to get the patients and families to ask many questions in the classes, and they were learning.

Later, I was about to finish my master's degree and I found Fran London's book, "No Time to Teach," in the bookstore. It was a small book but Fran's writing was honest, realistic and funny, and I found myself laughing out loud! Patient education was truly the best part of my career and it was what I wanted to do.

A couple of years later, I was back at OSU as a clinical nurse specialist (CNS) in medical surgical nursing and I got involved with the patient education committee with one of HCEA's founding members, Sandy Cornett, PhD, RN. She was the first person I worked with who talked about plain language writing, although it wasn't called that at the time. She was a mentor, a teacher, an editor of my writing, and a friend.

When the CNS position was being cut, I was fortunate to find a patient education position at another health system in Columbus that also required teaching diabetes education to outpatients. About six years later, I was hired back at OSU to replace Sandy on her first retirement and got involved with HCEA.

Despite the fact that my current position does not provide opportunities to actually teach patients and families directly, I enjoy the variety of projects we work on with clinicians across the health system, and I very much enjoy teaching and coaching others in plain language writing and communication skills.
What is your greatest achievement related to patient education?
The work I am most proud of was the launch of www.healthinfotranslations.org in 2004. Health Information Translations provides education resources in multiple languages for health care professionals and others to use in their communities.

The idea to start this website began because translation funding was incredibly limited and we were serving a diverse population. I was able to convince several patient educators from other healthcare institutions, including Mount Carmel Health and OhioHealth, to share their translated patient education materials. At that point, our translated inventory was predominantly for pregnancy and newborn care. We decided to apply for grant funding and share these resources online.

Throughout this experience, it has been great to learn about the immigrant and refugee populations in our community, to learn about the translation process and variations of language, and to work closely with these wonderful patient education specialists. Our site is used in more than 100 countries and has more than a million hits each year.

My dream is to get other health systems to contribute a few titles to our library annually in an effort to build a tremendous library of resources to address the ever changing needs in our communities for foreign language resources. I am looking to find funding to sustain the work into the future. Anyone know a donor who may be interested?
What is your vision for HCEA in the next two years and why?
I am excited to see the work on developing practice guidelines for patient education moving forward and the organization spreading the word on the work. And there will be the opportunities for planning the 2019 conference that is to be held in Tennessee. I have some concerns about the organization as I see more members retiring and often their positions are not being replaced. But I am also excited that there are new members coming in who are anxious to learn about patient education systems and processes. The expertise across the organization is amazing!
What would you say the best thing about being a part of HCEA is?
The best part of being involved in HCEA is the friendships, networking and support. It is wonderful to be able to contact others in the organization to learn best practices, and lessons learned from members who represent many facets of patient and consumer education across many models of care.
If there is one piece of advice you could give our members, what would it be?
Reach out and get to know others in HCEA. Connect with someone who posts something of interest on the listserv, or volunteer to get involved in the conference planning, or get involved with the Board.
____________________________________

Want to help shape the future of HCEA? Get more involved by joining one of our Committees. Visit this page to learn more: http://hcea-info.org/html/committees.html.
(Last updated 9/26/18)